AMCs?
AMC(Airborne molecular contamination) refers to various chemical pollutants (organic, base, acidic gas, etc.) that negatively affect semiconductor plants.
Applicable field
Ultra-precise manufacturing process such as semiconductor and LCD
On the site of the odor and harmful gas generation industry
In areas requiring clean environment such as hospitals, museums, and public institutions
Features
90% higher removal efficiency and longer lifetime
Create customized filters at customer request
Easy to operate installation
Excellent price competitiveness
Batch deployment of line-up from attached media to finished assembly and installation
Examples of filter applications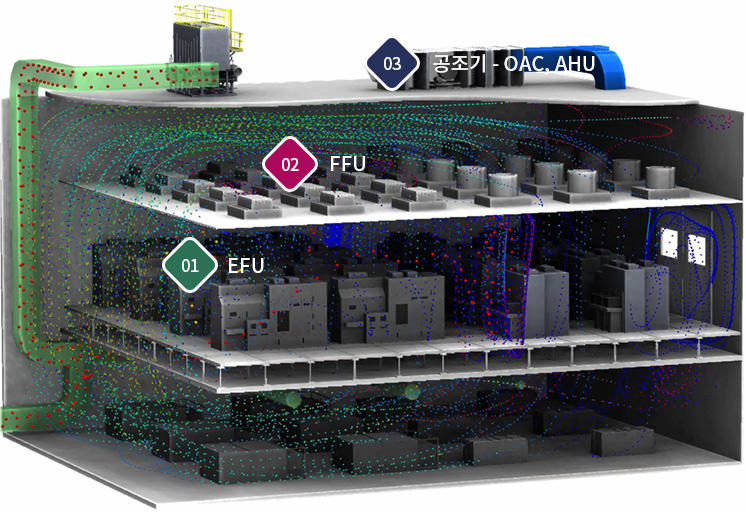 product descriptions
01

CAFILDEX® SW series

It's a panel-type product with multiple layers of media, and SW is a product name derived from SandWich. SW Media consists of multiple layers for complex gas control. Frame material and removal gas can be customized by considering the customer's request and site, so the customer's satisfaction is high.

02

CAFILDEX® HECY series

When installing a cylindrical product, it can be installed immediately without a buffer frame, and the composite gas control can be done the same as SW series by applying SW Media. Frame material uses aluminum anodized material and is mainly applied for FFU.

03

CAFILDEX® TY series

Multi-Tray Type has the advantage of low pressure loss by expanding the area, and Tray can control various gases depending on the mixing method by filling the media in the form of a pellet. In addition, BOX is semi-permanent with SUS material, and it reduces operational maintenance costs by replacing the Tray.
Chemical materials
Selectively remove harmful gases through physical and chemical adsorption and decomposition using a variety of adsorbents and catalysts.
From industrial facilities for air pollution prevention to clean filters such as households, vehicles, gas masks, etc.